---

   Mihail Vrapcea

---
Personal information
Age: 31
Phone: +4092767796
E-mail: mvrapcea@hotmail.com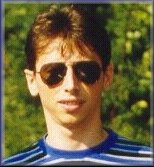 Education
The University of Timisoara (1989-1994)
Faculty of Mathematics
Graduated with the average: 9.09
Since August 1999 I started my graduate studies in biostatistics at University of South Carolina, School of Public Health, Columbia USA.
Experience
High School from Fetesti, Romania
Teacher of computer science (1994-1995)
"Ovidius" High School from Constanta, Romania
Teacher of computer science (1995-1997)
"Tomis" Supermarket from Constanta, Romania
Programmer (1997-1998)
In the second half of 1998 I created the NEWSoft firm, which has the purpose to make educational software.
Between February 15 and first of June 2000 I have worked as a half time programmer (between June 1 - June 13 as a full time programmer) at US Computing Inc. Columbia SC.
Since february 2000 I work also (about 4 hours per week, trough Internet) as a Visual Fox Pro programmer.
Software skills
Visual Fox Pro, Visual Basic, ActiveX, SAS, C++, Fox Pro (for Windows and for DOS), HTML, DHTML, ActiveX, Java Script, CGI, ASP, SQL Server, Visual InterDev and others.

Four years experience in Visual Fox Pro.
One of the first important multimedia programs I made in Visual Fox Pro, named "Visual English Guide 2.0" was very well received on the Romanian Market. This program offers immediately access in a dictionary with over 15000 words, 8 games for learning of English language, help for translations, conversation, grammar rules, pictures and pronunciations for over 500 usual words and much more.
My software products where published not only by the IT Romanian Magazines but also by international main web sites such as ZDnet (Mathematics on PC).
Soon, I will finish the multimedia computer program for learning of both operating and programming on PC. The name of the product is "The PC, our friend"
Foreign languages
English
French

Note: In the middle of June 2000, after ten months spent in USA, I had to remain in Romania, because my wife is afraid to fly across the Atlantic Ocean.